"A Mini-Goa"
Diu Tourism
Located near the port of Veraval, Diu is a small island which was earlier a Portuguese colony and is now guarded by beaches all around. Diu takes up most popularity given the ample number of beaches, along with Gujarat's southern coast such as the Nagoa beach, but has a lot more to offer too. Alcohol is legal in Diu. The Diu Fort, a primary imprint of the Portuguese on the area's heritage and architecture makes up a popular tourist attraction.
Places to Visit in Diu:
Diu Fort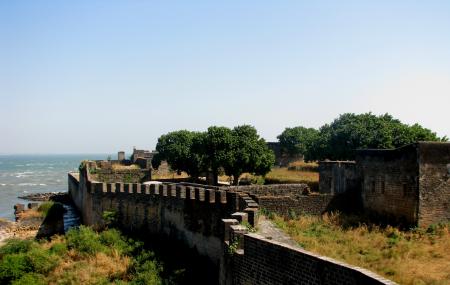 Fort Diu, located on the Western coast of Indian was built by Portuguese during their colonial rule and is now under the administration of Indian government.
The fort- cum – castle, is known as 'Praça de Diu' in Portuguese, is situated on the southern tip of Gujarat and is at the mouth of the Gulf of Khambhat.
Naida Caves
Located outside the city wall of the Diu Fort, the Naida Caves are a group of interlinked caves constructed by the Portuguese.
Naida Caves is one of the most underrated tourist attractions of Diu but it is as wholesome for an explorer or a history buff as for a photographer.
Nagoa Beach
Famous for its pristine beauty and swaying palm trees, Nagoa Beach in Diu is an ideal and a recommended place for tourists all over the world.
The place is well connected with the resorts, hence it making it easy for the travelers to relax and explore its beauty at the same time.
The beach is surrounded by beautiful palm trees swaying in the cool breeze which creates an exotic environment for the travelers to laze around.
Chakratirth Beach & Sunset Point Diu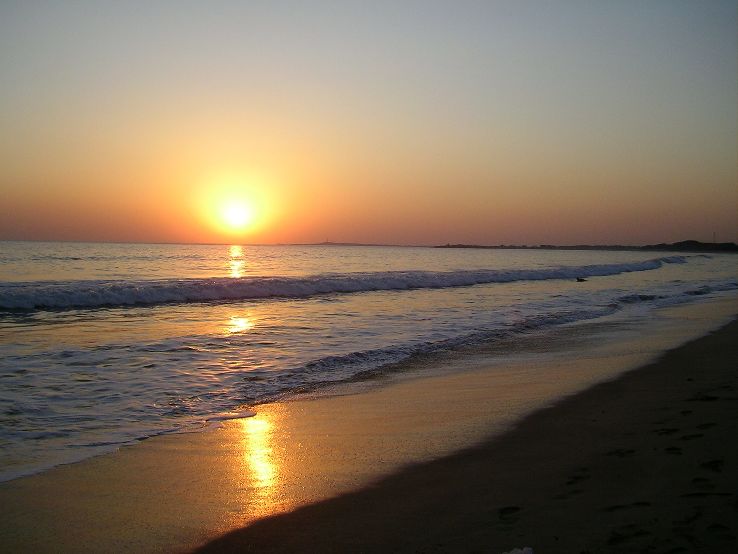 A beautiful hillock located near the Chakratirth beach in Diu, offers its visitors a mesmerizing view of sunset from here.
The hillock and the surrounding areas have been beautifully landscaped and illuminated.
Chakratirth Beach is centrally located and contiguous to the Diu Town.
This beach holds mythical significance in the Hindu mythology for being the beheading site of the demon Jalandhar by Lord Krishna.
Ghoghla Beach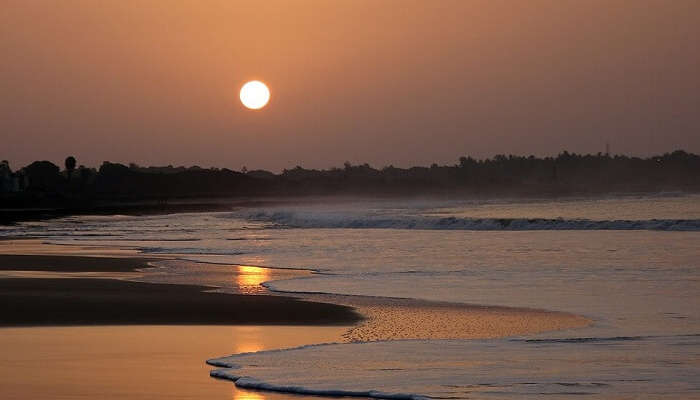 One of the most attractive places in Diu is the Ghoghla beach.
Located in the north of Diu town with not many people, it catches the attention of the tourists who prefer to stay aloof and not with the crowd.
Lesser tourists are the reason for a much cleaner Ghoghla beach compared to the other beaches in the town.
St. Paul Church, Diu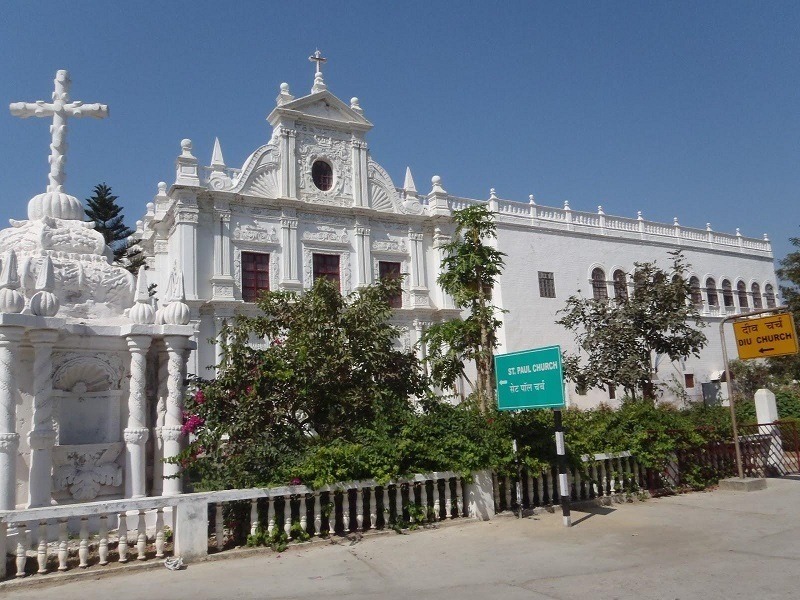 Situated in Diu, a Union Territory of India, St. Paul's Church is the largest and the only functioning church in Diu.
Renowned all over the world for its stunning Jesuit architecture by Indian craftsmen, the church boasts of rich wood carvings, splendid facade, intriguing volutes and shell-like motifs.
Dedicated to Lady of Immaculate Conception, its construction was completed in 1601 AD.