Jawhar Tourism
Nestled in the lap of nature, Jawhar is a popular tourist station laced with numerous waterfalls and scenic beauty. Popularly known as the Town of waterfalls, the unexplored hill station is an ideal gateway for people residing in major cities like Mumbai, Pune and Nashik. While the hill station is popular for waterfalls, it is also dotted with several temples and heritage structures which will interest history buffs. Jawhar is also popular for its cashew nut plantation and thick forests, which make the climate pleasant throughout the year for visitors. Unwind in nature as the rustic charm of Jawhar enthralls your body, mind and soul with its enchanting landscape and interesting culture.
Jawhar offers a range of accommodation options with amenities without burning a hole in your pocket. Visit the quaint hill station and munch on some local delicacies for a memorable sojourn in the mountains, not far from the hustle-bustle of your city.
Places to Visit Near Jawhar:
Jai Vilas Palace
Built by Raje Yashwantrao Maukane, the palace was constructed between 1938-1942.
The stone used for this palace was brought Kalidhond 5 km away and is said that the quarry was destroyed after the palace was completed.
The palace is an epitome of pink stone structure and has a lovely garden of Kaju in its premises.
Dabdaba Falls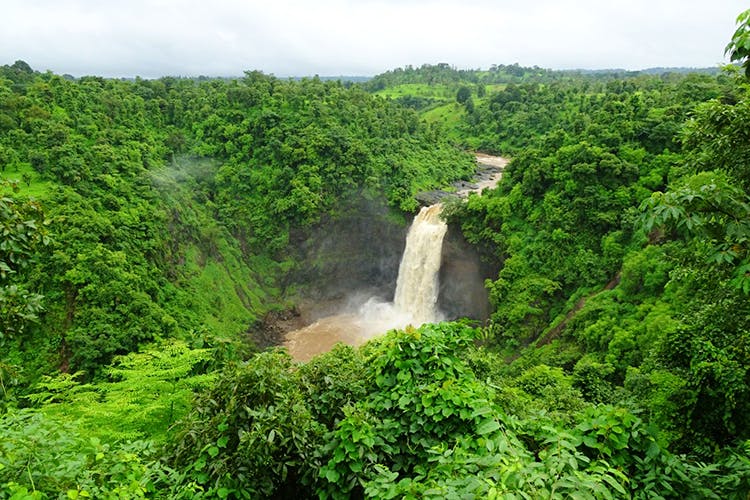 A sight that will for sure take your breath away, Dabdaba Falls a point of great natural wonder of Jawhar.
Bounded by dense cover of lush green forests and other modern facilities, the prime attraction of the place is high and gushing water fall.
Sunset Point, Jawhar
The Sunset point is a place with an enchanting natural setting serving as the prime attraction of the hill town of Jawhar.
A paradise for nature lovers, this place is famed for its beautiful surroundings and mesmerizing sunset view.
Shirpamal
An ancient structure dating back to 3rd century, the Shirpamal is a popular historic cite belonging to the great emperor of Maratha Kingdom, Chhatrapati Shivaji.
Situated at the top of a highest hill, it purpose was to keep an eye on the enemies during the war.
Hanuman Point
Another amazing destination that should be on your list of excursions, the Hanuman Point is set in a wonderful natural setting.
According to the myth attached to this place, Lord Hanuman rested at this place while on his way to meet Lord Rama's brother, Bharath owing to which the place got its name.