"Misty Weekend Getaway"
Lonavala Tourism
Popular hill station close to Pune and Mumbai, Lonavala is the place to be during monsoons. With lots of waterfalls, lakes and hills around, Lonavala is frequented by all sorts of people, especially hikers and trekkers.
Lonavala, being a part of the Sahyadri hills, offers an alluring and bewitching experience of nature's most gifted region. Surrounded by dense forests, waterfalls, dam alongside lakes, Lonavala is a must-visit if you admire nature and want a gateway to having a soulful weekend or a good trip.
Places to Visit in Lonavala:
Tigers Leap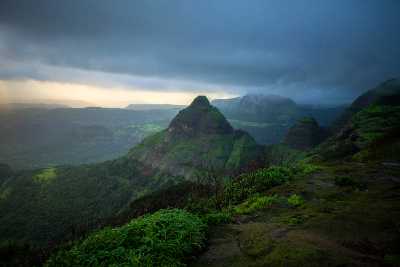 Tiger's Leap is an unusual name given to this place due to the resemblance of the shape with that of a tiger leaping into the valley.
Tiger's Leap is around 8 km away from Lonavala and a major tourist attrac-tion of this place.
This point, which provides an interesting view of the valley below, is just a short distance away from INS Shivaji.
Bushi Dam
Bhushi Dam is a masonry dam on the Indrayani River. It is one place in Lonavala which is bound to cheer you up during the monsoons which are the ideal time to visit the attraction.
It tends to get so crowded that many individuals find it hard even to get a decent standing spot.
Lonavala Lake
Lonavala is a town and a hill station in Pune district. It is about 64 km from Pune and 96 km from Mumbai.
It is famous for its production of the hard candy chikki which is a sweet eatable thing made from different nuts mixed with jaggery. It is a major stop on the railway line which connects Mumbai and Pune.