Malshej Ghat Tourism
The Malshej Ghat is a beautiful mountain pass in the Western Ghats in Maharashtra. Situated in the Thane district, the site is a well-known weekend place to visit near Mumbai. It is best recognized for its natural beauty. Being a part of the Western Ghats, the Malshej Ghat abounds in flora and fauna, especially bird life which includes species such as cuckoos, flamingos, cranes, rails and quails. The scenic place is situated near the borders of the Thane and Ahmednagar districts.
Places Nearby Malshej Ghat:
Ajoba Fort
Standing tall in the Sahyadri ranges, Ajoba or Aaja parvat is one of the highest peaks in the region.
Nestled amidst thick greenery, the Ajoba Hill fort is a delight for trekkers as it presents an exciting trail to the top.
It is believed that Valmiki wrote the epic "Ramayana" on this fort.
Malshej Ghat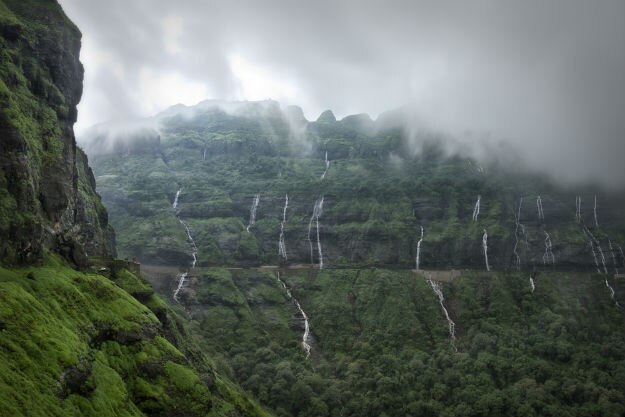 Malshej ghat attracts tourists from all over the country and the world because of its breath-taking beauty.
It is from here, you can view the lush valleys of the Western Ghats.
The region is also famous for its dark woods and the wildlife residing in them.
The wildlife here includes animals and birds such as peacocks, rabbits, leopards, and tigers.
Khireshwar Village
Khireshwar is a small, scenic village at the foothills of the mountains.
Khireshwar is base of Harishchandragad hill fort, There is a beautiful temple of Nageshwar as well as ancient caves of the Yadav era in Khireshwar village.