Raigad Tourism
Raigad, is a historically rich district is situated in the Konkan region of Maharashtra. Located at 2,851 mts, it is surrounded by Mumbai Harbor, Thane, Pune, Ratnagiri and the Arabian Sea.
Chatrapati Shivaji Maharaj, renowned Maratha ruler, won this place in 1656 and his Maratha kingdom thus shifted base to Raigad. His prized win, the Raigad Fort is one of the main attractions of this place.
Places to Visit in Raigad:
Raigad Fort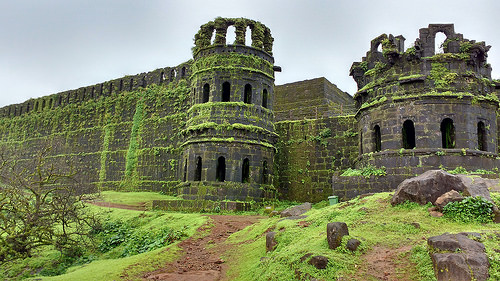 The fort is of great pride for the Marathas and is a reminder of the bravery and audacity.
The Raigad fort is not just a tourist spot; it is a sacred place of pilgrimage which holds the imprints of the grand vision of Hindavi Swarajya as cherished by Chhatrapati Shivaji.
Diveagar Beach
Diveagar beach is a charming natural beauty situated in the Raigad district of Maharashtra and is situated 170 kilometres away from the capital city of Mumbai.
A perfect representation of all that the Konkan Coast stands for, Diveagar Beach is a quaint amalgam of greenery and azure water with gentle sprinkles of white sand.
Jagadishwar Temple 
The main deity of the temple is Shri Jagadishwara. Shivaji who was an ardent follower of the Hindu religion was known to visit the temple daily.
The temple was built in the royal palace and it's dome represents the Moghul architecture of that time.
Madhe Ghat Waterfalls
Situated at 62 km from Pune, in the Raigad district of Maharashtra, Madhe Ghat Waterfalls is a beautiful waterfalls located amidst verdant green vegetation, mighty hills and meandering rivers.
On some days, you can also spot the Raigad Fort from here.